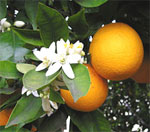 Like 'apple', 'plum' or 'grape' is evaluated the orange as a dear symbol and as a temptation by worldly and sensuous pleasures.
Popular:
(arab).:
see: you strive after of wrong,
shop: you will enter a new connection,
peel: we must still take some trouble on ourselves, before we reach to the desired aim,
eat: Dear pleasure.
(European ones).:
closes on joy,
see: Travel urge,
many matures in a tree see hanging: good views in the love,
pick: the luck stands on shaky ground,
with the peeling be occupied: one must still undertake some trouble, before one reaches to the desired aim,
eat: one will change to the advantage, – a pleasant love affair approaches.
(ind).:
orange registers that one has desire for changes, for example, on a trip,
pick: warns against counting too much on his luck.