Dream dictionary Goldenrod
- what does Goldenrod dream mean?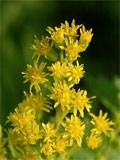 If your dream featured it growing, you are being cautioned against interfering in the personal affairs of others; however, if you picked it or it was indoors in a vase or floral arrangement, it predicts a new influential friend. See also Colours, Flowers, Foliage, etc.
Popular tags:
goldenrod symbolism
goldenrod symbolizes
what does goldenrod mean
Dream dictionary - related dreams:
Dream interpretation Goldenrod
- dream-symbols.com