Dream dictionary Holly
- what does Holly dream mean?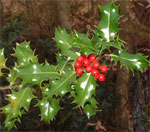 You'll be lucky with both money and friends if your dream featured holly, unless it pricked you, in which case it is a warning to avoid getting involved in some petty intrigue which could backfire to your great chagrin. See also Bush, Foliage, etc.
Popular tags:
dream holly leaves
dream symbol Holly
holly in a dream
Dream dictionary - related dreams:
Dream interpretation Holly
- dream-symbols.com